Is it possible for one to expire from boredom? If so I think I am coming close to it. *sigh* I've been up since a little after 6 am this morning. Once I am up, I am up no matter what.

I applied for a bunch of jobs online yesterday. Plus I am fixing to go to JCP & Dillards online to see if they have any openings. I am desperate!!!! Need fundage!

Well, I'm off...perhaps I'll be back later.
I AM SO BORED!!!!
*Sigh!* I still haven't found a summer job yet & I'm fixing to freak the fuck out!!!! Movie Gallery wants to hire me, but they barely pay minimum wage...so I said screw that!!!! I am worth more than that at this point. My last job paid me $7 an hour...so I feel I am at least worth that. I still have not heard back from the bank job or the library job. I am fixing to search for & apply for more jobs online. I have some jobs saved at the AL job bank. Well, all for now, I just needed to vent. No one here to vent to except my dog Mister.
Current Location:

couch

Current Mood:

bored

Current Music:

watching Sabrina the Tennage Witch
Peanut is offically 4 months today! *squees!!!* I can't wait to actually start feeling the baby move around. I've been feeling the "butterflies" already, known as "quickening," which is basically little movements that can only be felt internally. Man, in 2 more weeks I will be halfway done with my pregnancy!!! Wow!!! How time has flown! :) Doug keeps asking me when Peanut's going to get here. I bought some baby clothes from the mall yesterday & my friend Renee dropped by for a visit & to let off some steam last night & she came bearing diapers & wipes...lol!!!! Our first batch of those! Awesome!!
lilydahlia
Hopefully you'll get this soon so maybe we can visit while I'm down in Andy again. :) But if you have to work I understand. :( *kicks your boss* *grins wickedly* Oh yeah, I checked out the Ravyn book from the library...very good so far. Catman rocks! LOL!!!
OK...I'm off to run these errands. Doug is back in town from Mobile, but he's not off work yet.
Well, Doug's sis & our 2 nieces arfe in Andy right now. They've been there since Wed. actually. Since we haven't seen our new niece Maegan yet, Doug's mom is sending us gas money so we can come back down this weekend. We had to make am emergency trip down last Sun.-Mon. because Monica's grandmother, with whom we were fairly close, passed away due to complications brought on by her chemotherapy. It just amazes me that it's not the disease that usually ends up killing people, it's complications from the treatment of the disease, i.e. lowered immune function. Anyways...enough of my rant on that topic.
Peanut's 1st picture! Awwwwww!!!!!! At 13 wks, 4 days!!! :) Head - round circle on right, legs/butt - upside down triangle, Peanut was curled up in the fetal position! We still don't know what Peanut is yet, probably during my June Doctor's visit (almost 23 wks) we'll have them do another sonogram to tell if its a boy or girl. We both want a girl 1st, but we will be just as happy if Peanut is a girl. We lucked out in that Peanut was awake & moving about at the beginning of the sonogram. Toward the end he curled up into a little ball & presented the lady with his little butt. It was amazing & cute all at the same time! We also got to here Peanut's little heart beating at 160 bpm, which is normal. I think I might buy my own heartbeat thingy from Wal Mart. They're only $20.
I am graduating on Saturday! Yay for that! Except my family can't come. :( My brother has an excuse - my mom told him the wrong weekend & now he can't get it changed, but he's coming to see me at the end of May. My mom, however, has no good excuse. The only time she'd been here to see me was when she helped Doug & I move to Tuscaloosa. Screw it!
My professor took me & the lab out to eat today at Swen's Chinese restaurant. Very good food!!! Peanut likes Chinese! :) LOL! He also gave me a little Bama elephant & some awesome coasters with dragon flies on them! I need coasters! And I love elephants! I plan to do the nursery in a jungle theme (good for a boy or girl) so it, along with my other elephants that I have, will go in there.
Doug got really pissed at our friends this past weekend, but it's almost worked out. The person in question realizes that they did wrong by us & has apologized to Doug & will apologize to me sometime today.
Summer job front: In progress. I have applied with Compass Bank for a FT teller position, 2 positions at the public library, and Movie Gallery. I plan to get online later tonight & apply for some more jobs that I found in the AL job bank. I am sad that they are getting rid of it this summer. :( I really like the AJB!!!! Oh well!
Anyways...I am getting sleepy, &
lilydahlia
isn't online so I'm going home. Boo for you BTW!!! :P
Update on Peanut: Happy & healthy & growing right on schedule, despite the blood pressure issues. They think that it's just going to the doctor is what triggers it because I have been monitoring it regularly. I will be 15 wks this Friday.
Current Location:

lab

Current Music:

none
I have just been hibernating & being lazy lately...lol!!! But now I am back! Sort of! I have got to balance my checkbook & make a Wally World run today. Gotta get cake stuff for Doug's b-day cake. I, with the help of my friend & co-conspirator Renee, am going to make a dragon cake...or at least attempt it...lol. Plus we're having the surprise B-day party for doug this weekend & we have a good cover story planned too. *smirks* I am so sneaky! I've got everybody in on it. I bought decorations from the dollar tree...I gotta buy some other food items for the party too - like chips & veggies & maybe some stuff to coat w/ the choc. fountains. Well, I gotta run! I've got a lot to do! I'm gonna be baking tomorrow, maybe I'll be on, but I'm not making any promises.
Current Location:

school

Current Mood:

cheerful

Current Music:

none
Click here to make one
undefined


Guh! I am so taking a shower when I get home! I forgot I had a meeting at 9:30, so I didn't get a chance to shower. I feel like ass! But on a happier note, I'll probably take a relaxing bath when I get home! :)
I finally got my thesis defense scheduled...it's going to be this Friday, March 23rd from 11am-1pm....pray for me!!!!!! I loafed around during spring break because originally I was going to defend next week. Now it's major crunch time! No company tonight!!!! I work best at home...which is where I will be going as soon as I am done meeting with students, which should be like 3pm. I have my presentation fairly well fleshed out, I just need to refine it & practice, practice, practice. I guess I need to send out a confirmation today to my committee members. Speaking of my committee members, I got rid of the one I feared the most! *dances* Hallelujah!
Current Location:

school

Current Mood:

anxious

Current Music:

none atm


On the plus side of thing, I bought some maternity stuff this weekend! YAY! So much more comfy than regular pants at this point. I need to go check out that Motherhood store in the mall....maybe later, not today though...*yawn.* I might order some stuff from JCP later today...I was kinda upset that the only way you can get maternity stuff from them is through the catalog/online. :P on them!
I hate Mondays! Especially this one! I could not get comfy last night to save my life! I kept tossing & turning! Pretty much every position I tried started to hurt after a little while. I finally curled on my side with a pillow under me & that seemed to help. Guh! I think I'm gonna run my errand over at the Ferg & then go home! I feel like ass!
Current Mood:

hungry
I have been so lazy this week! The only things I accomplished was cleaning/straightening the house & making minor corrections to my thesis. BTW, the thesis is finally finished and in the hands of my committee for their review. Now I'm trying to schedule my defense time. Hopefully everyone will agree to Wednesday March 28th at 1pm. I know it's okay with 3 of them, but I don;t know about the 4th member. Hopefully I'll get a reply very soon so that way they can block out that time on their schedules because student advising is also going on now. Guh! Pain in my ass! Well, I have got to go get started on my defense presentation. *kicks hotmail for being on the fritz*
Current Location:

home

Current Mood:

bored

Current Music:

watching TV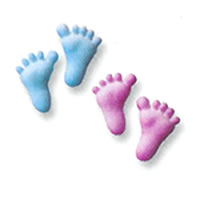 I'm gonna go get some ice cream! LOL! I just felt like posting some cute baby stuff here, especially since I revamped my Myspace with baby stuff. I might try to find a baby layout for here, I don't know. We'll see. I need to get some baby icons for here. Guh!
Current Location:

ye ole couch

Current Mood:

creative

Current Music:

watching smallville season 5